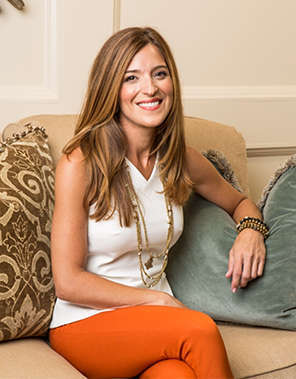 Known for her approachable style, Krista Lewis has been creating livable spaces for clients across the South for the past fifteen years. Krista's work is highly acclaimed and has been featured in both local and national shelter publications including At Home in Arkansas, Country Decorating and Storage Solutions.
Krista not only embodies a talented and trained design eye, but impressive pedigree and business acumen. Upon receiving her design degree in 1998 from the University of Arkansas, Krista worked for one of the oldest architecture firms in the South, Cromwell Architects and Engineers, where she gained invaluable experience in commercial construction, and learned the business aspects of running a large firm. She holds a certificate with the National Certification for Interior Design Qualification and is a professional member of ASID.
After marrying her husband, Dan, in 1999, they moved to New Orleans, LA, where she worked for a firm specializing in boutique hotels and high-end residential design.
New Orleans was a great training ground and inspiration for my aesthetic," says Krista. "I developed a respect for the history of the city's architecture and decoration, as well as the individuals who live there. The people of Louisiana are gracious, and rooted in tradition, but not afraid to mix things up. The comfortable atmosphere created by mixing traditional design elements and a relaxed attitude is central to my design philosophy."
Krista founded K. Lewis Interior Design in New Orleans in 2000. Tradition and family roots being important, Krista and Dan moved home to Little Rock, AR in 2006 to raise their family, which now includes three children, a dog, a cat, and several fish.
Krista's interiors are often described as relaxed, grounded, layered and personal. She has developed a diverse portfolio reflecting her skill at intuitively creating comfortable, livable spaces that both enrich her clients' lifestyles and represent their individual tastes.
"I strive to understand the needs of each client I work with. I learn about how they live, and what they love. The work we do in each space not only increases the property value significantly, but as importantly, deeply enriches their quality of life,"
Krista shares.
"Designing custom interiors for my clients is a synergistic process between myself, the clients and a group of highly skilled tradesmen, vendors, artisans and workrooms. Together, we create amazing spaces that my clients get to enjoy everyday. I love what I do!"